Apple Delays Shipments of New Orders for Existing MacBook Pros Until Week's End
While we've already reported that new MacBook Pros are expected to launch on Thursday and reports have even surfaced claiming that sealed shipments are already on their way to retailers, it's worth noting that Apple's top-priority U.S. online store has now gotten in on the act by pushing shipment estimates for all new MacBook Pro orders out to 3-5 business days.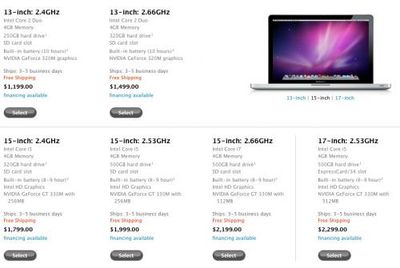 Apple's brick-and-mortar retail stores will of course continue to sell off any remaining stock of the current models, but the company's online distribution system has clearly dried up and any new orders placed will almost certainly be upgraded to the new models released later this week.
Some observers have questioned why Apple would release new MacBook Pros on a Thursday, as opposed to its traditional Tuesday release date. The most likely reason is related to the federal Presidents' Day holiday in the United States today. Apple generally prefers not to launch new products straight out of a weekend, in part due to ensure that media coverage is not diminished as some reporters may still be making their way back from the long weekend. Consequently, Apple has been known to deviate from its usual Tuesday and Wednesday releases in weeks with major U.S. holidays.
Others have noted that Thursday is Apple CEO Steve Jobs' 56th birthday (as well as MacRumors' own 11th birthday), which almost certainly simply makes for a nice coincidence.
Update: Some of Apple's online stores for other major markets such as the United Kingdom were not showing the uniform extended shipping estimates at the time of initial publication, but those stores have since seen their estimates similarly pushed out to 3-5 business days.