Job Posting Sparks Speculation Regarding Apple Television Set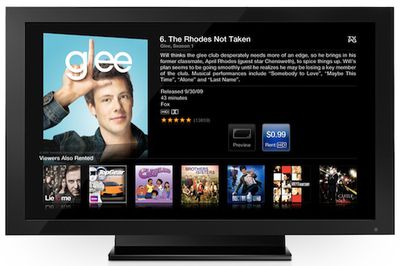 9 to 5 Mac points
to a new
job listing
from Apple that makes mention of the company's involvement in a variety of product lines, notably including "TV". The job listing, which interestingly contains a number of grammatical errors suggesting that it may not have been written by a native English speaker, is for an engineer to work on power supplies for Apple products.
In this position, you will be part of pride developing innovative designs, which are implemented in products used by millions of people. The position primarily involves high-density offline power supply's development for Apple's next generation Macintosh platforms spanning from notebook computers, desktop computers, servers, standalone displays and TV.
While the reference could simply be related to the company's existing Apple TV offering, some observers have been hoping that Apple will one day launch an Internet-connected television set integrating a TV screen with additional hardware to connect to iTunes and the rest of the Apple ecosystem. Consequently, the "TV" mention in the new job posting may give a glimmer of hope to those waiting for an Apple television.
Piper Jaffray analyst Gene Munster has long advocated for just such a product, arguing that an integrated TV with DVR-like functionality and access to an iTunes television subscription service could offer a compelling alternative to traditional cable subscription packages. For its part, Apple has noted that it has no interest in being in the actual TV market given the difficulty of generating a profitable go-to-market strategy in a crowded industry already operating on slim profit margins. Apple executives have been known, however, to publicly dismiss ideas and products even as they were working on developing them.