iPhone Marks Fastest-Selling Launch in Verizon History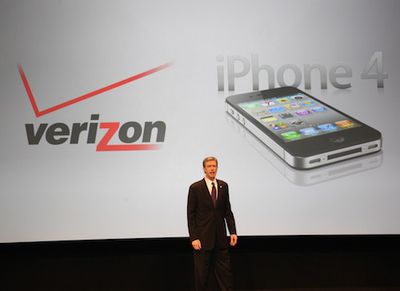 Verizon today
announced
that yesterday's launch of the iPhone was the fastest-selling debut in the carrier's history, even with the premiere occurring the middle of the night and limited to existing Verizon customers.
"This was an exciting day," said Dan Mead, president and chief executive officer for Verizon Wireless. "In just our first two hours, we had already sold more phones than any first day launch in our history. And, when you consider these initial orders were placed between the hours of 3 a.m. and 5 a.m., it is an incredible success story. It is gratifying to know that our customers responded so enthusiastically to this exclusive offer - designed to reward them for their loyalty."
The press release notes that Verizon halted pre-orders at 8:10 PM Eastern Time yesterday, just over 17 hours after they began. The carrier did not, however, indicate how many pre-orders were taken.
General availability for the Verizon iPhone begins on February 10th, with the device being available through Verizon, Apple, Best Buy, and select Wal-Mart stores. Apple will allow customers to place orders or make reservations one day ahead of that general availability date.