iPad App Store Gains Search Filters, Install Buttons for Previously-Purchased Apps
Apple made several tweaks to the iPad interface for the iOS App Store yesterday, enhancing users' abilities to filter app searches and to determine which apps they have already purchased but may not have installed on their devices.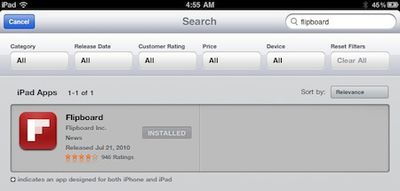 As
noted by MacStories
, the new search filters appear as a toolbar at the top of search results pages. The filters allow users to limit their searches by category, release date, customer rating, price, and device compatibility. With the number of iOS applications now exceeding 300,000 and iPad-specific apps pushing past 60,000, users should find the new filters handy for weeding through listings.

The
second change
, also noted by
MacStories
, involves a tweak to the way previously-purchased applications are displayed in App Store searches on the iPad. Typically, results have been displayed with a button showing the price of the app, and the user simply taps the button to purchase and install the app. Results for apps already installed on the device have been displayed with an inactive button simply saying "installed".
But what was less than ideal was the handling of apps that had been previously purchased but not currently installed on the user's device. Apple allows such apps to be downloaded free of charge, but search results simply displayed the normal button with the purchase price displayed. Users were required to attempt the purchase the application before discovering that they were entitled to download it free of charge to their devices. With the new tweaks, these search results now display an active "install" button indicating to users that they may install the previously-purchased apps without being charged a second time. The feature applies to the iTunes Store account that the user is signed into on the iPad App Store at the time of searching.