AppShopper Now Tracking New Mac App Store Apps and Sales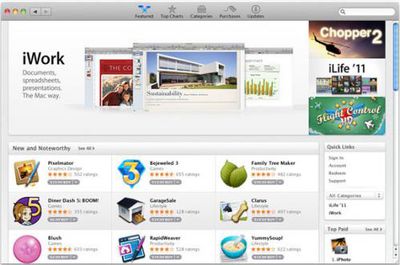 Late last week, sister site
AppShopper
began tracking the Mac App Store for
new apps
,
updates
and
price drops
. Beyond those raw lists, the
Popular view
offers a look at the apps with the most activity amongst other AppShopper users. AppShopper has provided the same service for the iTunes App Store, allowing users to compile their own App wishlists to follow sales and app updates. Also tracked are the
Top 200
Paid and Free Mac Apps for various categories.
The Mac App Store presently offers only 1638 apps, but is seeing daily new apps as well as constant pricing changes. A few notable price drops in recent days:
- Braid - $9.99 -> $1.99
- Delicious Library 2 - $39.99 -> $29.99
- Dr. Seuss's ABC - $24.99 -> $8.99
Apple launched the Mac App Store on January 6th alongside the Mac OS X 10.6.6 update. The Mac App Store will also be a large component of Mac OS X Lion which is due this summer.