Microsoft's Office Team Steps Onto iOS With 'OneNote'
While Microsoft has released a small handful of apps for iOS devices, mostly notably with Bing and Windows Live Messenger, the company's Office team has been slow to bring iOS offerings to the App Store. Microsoft had indicated soon after the iPad's introduction that it was "looking at" the possibility of bringing a version of Office to the iPad, but clarified a few months later that it had "no current plans" to develop such offerings.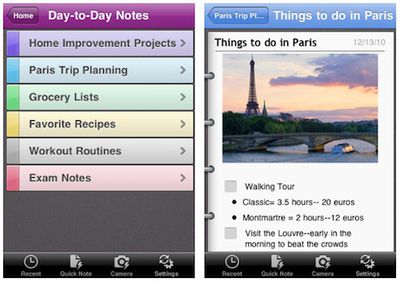 But Microsoft's Office team has now taken its first baby steps onto the App Store with its
announcement
that it has launched a version of
OneNote
[
App Store
] for iOS.
In case you haven't experienced the unsung hero of Office, OneNote is a digital notebook that lets you put everything you need to remember in one electronic place and then easily find it wherever you are. I use it every day. Think of it as a digital file cabinet for all the random bits of information that are too hard to keep track of in your head. According to comScore, 78 million PCs in the U.S. have OneNote - more than a third of all the PCs in the country.
OneNote Mobile for the iPhone lets you capture and review notes and lists on your phone. Notes are automatically backed up and synced with free Windows Live SkyDrive online storage, so that you can access them from virtually anywhere - your PC, phone, and browser. Collecting thoughts and ideas on the go is what OneNote was made for.
Microsoft has worked hard to extend availability of OneNote functionality, offering it in its Office suite for Windows as well as as a desktop web app and for mobile devices running Windows Phone 7 and now iOS. OneNote for iOS is currently free for a "limited time", and it is unclear what the regular price will be and when it will go into effect.