Apple Stock Opens Down 5% on Steve Jobs Leave of Absence
Apple's stock opened for trading at $327.05 per share this morning, down over 5% from its close on Friday, with the dip clearly related to Steve Jobs' announcement that he will be taking a new medical leave of absence from the company. The stock has been rebounding in the few minutes the market has been open for trading, however, and currently sits at about $336 per share, or down 3.5%.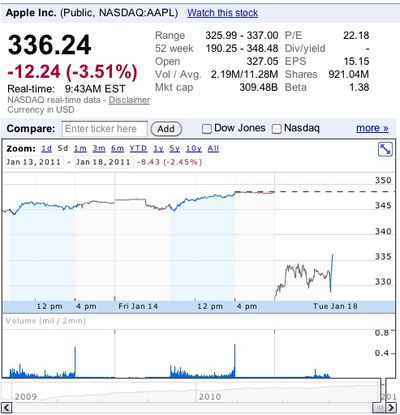 Apple appears to have strategically released the news of Jobs' leave yesterday morning on Martin Luther King, Jr. Day, a U.S. holiday when the stock markets would be closed and would give investors a day to absorb the news before making moves with their holdings of the company's stock. Apple's stock was being traded on the Frankfurt Stock Exchange yesterday, closing down about 6.6% and offering observers an expectation of what would happen this morning.
Another factor likely playing into Apple's timeframe for announcing Jobs' leave is the company's quarterly earnings announcement scheduled for after the close of the market today. Apple is widely expected to beat analyst estimates, performance that could offer the company's stock a lift to at least partially offset today's decline on Jobs' health worries. We'll have full coverage of the earnings release and accompanying conference call, where analysts are certain to question Apple executives seeking to learn more about how the company will be run during Jobs' absence and when we might expect him to return.
Update: As of 1:30 PM Eastern Time, Apple's share price has climbed back up to $343 per share, down only 1.5% for the day.
Update 2: Apple's share price close regular trading for the day at $340.65, down 2.25%. Apple's earnings release is forthcoming, and the stock will likely move relatively significantly in extended trading following the release.