Three New iPad SKUs Appear in Best Buy's Database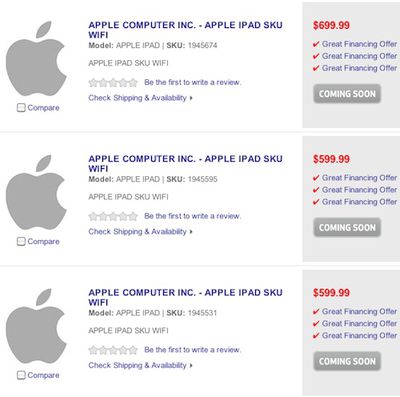 A number of observers have noted that three new iPad offerings
appeared on Best Buy's site
today, with all three models described as "APPLE COMPUTER INC. - APPLE IPAD SKU WIFI" and availability listed as "coming soon". Curiously, two of the models carry price tags of $599.99, while the third comes in at $699.99.

No other information beyond the scant details included on the product pages is available, and thus it is unclear if these listings are intended to reflect second-generation iPad models, some sort of internal SKU shift on existing models, or perhaps simply an error on Best Buy's part.
Best Buy's inventory database is a relatively unreliable source of information on future product releases, as the company has in the past sometimes used existing rumors to create placeholder entries in anticipation of forthcoming product releases. The company has, however, on occasion included legitimate details on unreleased products in its database, most notably with an unspecified "mobile computing" device that appeared in May 2009 and turned out to be an updated MacBook announced by Apple two days later.
Update: Best Buy has removed the three new entries from its site.