CES 2011: Zeppelin Air Speaker, SnapStick Web on TV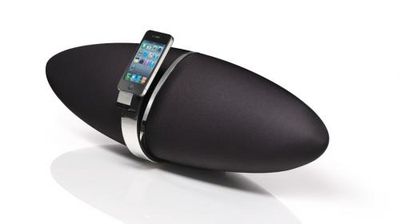 Bowers Wilkins announced
an AirPlay revision to their Zeppelin speaker system. The new Zeppelin Air offers the traditional dock connector to attach your iPhone, iPad or iPhone touch directly, but also allows you to stream via AirPlay wirelessly. The Zeppelin Air will debut in March 2011 and cost $599.99.
Those looking for more inexpensive AirPlay speakers, iLounge reports that iHome is planning on releasing other AirPlay-compatible speakers targeted at the $200 range.
Meanwhile,
SnapStick
is offering an interesting approach to computer-TV integration. They have developed a hardware device that connects to your television that allows you to view videos and other web content through your TV. What makes it different is that you first find the content on your iPhone or computer, and then "snap" it to your TV. The process of spanning content involves transmitting the URL to the SnapStick device which is itself a web browsing device.
The use case seems to be for those who regularly find themselves browsing web content on their mobile devices but wish they could easily transmit it to their TV. Pricing has not yet been announced.