Apple May Or May Not Be Searching For a New CFO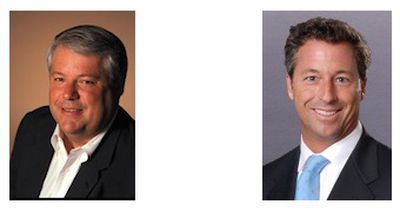 Apple CFO Peter Oppenheimer (left) and Blackstone CFO Laurence Tosi (right)
Bloomberg reports
that it has learned from three separate sources that Apple has approached Laurence Tosi of investment firm Blackstone Group about taking on the role of Apple's Chief Financial Officer. Tosi would replace Peter Oppenheimer, who has served as Apple's CFO since 2004.
Tosi has reportedly indicated to Blackstone management that he intends to remain with the investment firm, suggesting that Apple may have to continue searching for a new executive. But in addressing the claims, Apple has gone as far as to state that Oppenheimer is very happy with the company and that Apple is not conducting a search for a new CFO, leading to questions about exactly what is happening behind closed doors.
Tosi told Blackstone CEO Stephen Schwarzman that he plans to stay, rather than join Apple, said two of the people, who asked not to be identified because the talks were private. Steve Dowling, a spokesman for Apple, said the company is "not conducting a CFO search." Current CFO Peter Oppenheimer "loves the company and is extremely happy in his role," Dowling said.
A similar note provided to All Things Digital by Apple includes a statement that "Peter is not leaving Apple."
Oppenheimer, a fixture on Apple's quarterly earnings conference calls, has helped guide Apple to tremendous financial success over the past six and a half years, with Apple currently sitting on over $50 billion in cash and investments and registering as the world's second-largest publicly-traded company with a market capitalization of over $300 billion.