Mac Software Bundles: MacUpdate and Indie Mac Gift Pack
This week two Mac software bundles have launched. These bundles combine a number of Mac apps together into a discounted package.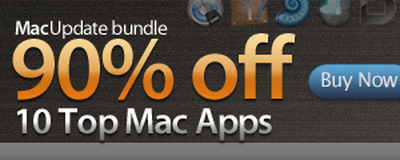 The first comes from
MacUpdate
which we've partnered with a number of times over the past few years. The bundle includes the following apps for $49.99 ($534 value).
1Password - Password Manager
MacFamilyTree - Geneology app
DEVONthink - Organization software
Flux - XHTML and CSS web design
Default Folder X - Enhances open/save dialogs
Art Text + Fonts - Create high quality logos, headings, banners.
Swift Publisher - Make cards, certificates, letterheads, and more
Chronories - Diary app
Interarchy - FTP/SFTP client
Typinator - Auto-completes text as you type
1Password in particular is a highly recommended app that allows you to secure your online passwords. In light of the recent hacking of Gawker media it seems particularly relevant. The bundle can be purchased at MUPromo.com, and MacRumors is a promotional partner and benefits financially from referred sales.

Meanwhile, several independent developers have banded together to create the
Indie Mac Gift Pack
. This is a 6-app bundle that is being sold directly by the developers themselves. The apps include the following for $60 ($272 value)
Delicious Library 2 - track your collections
Acorn 2 - Image editor
MarsEdit 3 - Write, preview, publish your blog
Radioshift - Listen and record radio stations
SousChef - Search over 195,000 recipes
Sound Studio 4 - Record, edit and produce audio
The apps can be purchased at IndieMacGiftPack.com, and MacRumors has no financial association with this site.