'Google Voice' App Adds iPad and iPod Touch Support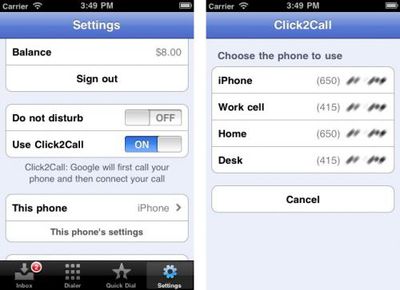 Google today
announced
that it has updated its
Google Voice
App Store application to support the iPad and iPod touch. The application, which Google and Apple
famously faced off over
last year before Apple finally approved the app
last month
, offers an interface for interacting with Google's telephone service.
Starting today, you can download a new version of Google Voice that lets you use all the features of the app on these devices, such as sending and receiving free text messages - except, of course, make cellular calls.
While iPad and iPod touch users can't use the Google Voice app to make cellular phone calls through the service, Google has developed a system known as Click2Call that allows users to initiate calls through other devices.
While you can't use your iPod or iPad as a phone, you can use it to initiate Google Voice calls with your phones. We call this feature Click2Call. Simply click any 'Call' button in the Google Voice app on your iPod or iPad and then select which of your phones you want to ring. Google Voice will call your phone and then connect your call.
The update brings several other improvements, including the ability to set "do not disturb" times during which all calls are sent directly to voicemail and improvements for initiating calls from the address book.