Apple Addresses MacBook Air Issues With Firmware Update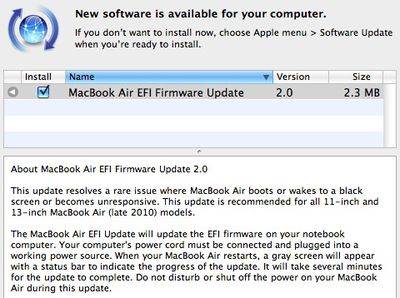 Apple today issued an EFI firmware update for the new 11-inch and 13-inch MacBook Air models, the latest in a series of software updates released since the line was revamped in late October as some users have complained of display problems, kernel panics, and other issues.
The new update, known as MacBook Air EFI Firmware Update 2.0, addresses a "rare" issue with the machine booting or waking from sleep to a black screen or becoming completely unresponsive.
This update resolves a rare issue where MacBook Air boots or wakes to a black screen or becomes unresponsive. This update is recommended for all 11-inch and 13-inch MacBook Air (late 2010) models.
The MacBook Air EFI Update will update the EFI firmware on your notebook computer. Your computer's power cord must be connected and plugged into a working power source. When your MacBook Air restarts, a gray screen will appear with a status bar to indicate the progress of the update. It will take several minutes for the update to complete. Do not disturb or shut off the power on your MacBook Air during this update.
Apple released a graphics-related update for the new MacBook Air just as it began shipping, but even so users reported a number of issues with the new machines. Apple's internal support teams acknowledged several of the graphics issues soon after, and fixes were included in Mac OS X 10.6.5 released in mid-November.