Apple Updates Universal Dock, Discontinues Compact Wired Keyboard [Updated]
Apple this week updated its Universal Dock package, which offers a convenient charging and syncing solution for a variety of iPhone and iPod models, as well as a means to connect those devices to stereos or TVs. While the dock itself remains the same, Apple has updated the package to include the company's now-standard aluminum remote instead of the previous white remote.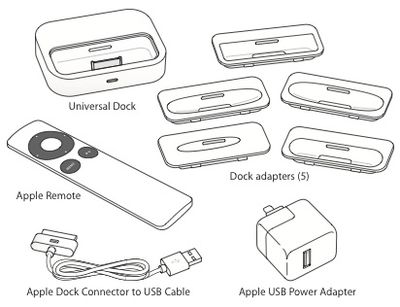 Items included in new Apple Universal Dock package
The new dock package also includes a USB power adapter and a USB cable to aid in connectivity, accessories that had previously been sold separately. Consequently, Apple has raised the price of the package from $49 to $59.

Device compatibility with included adapters for Apple Universal Dock
(Adapters for other iPhone/iPod models sold separately)
The package also contains a revised set of five dock adapters offering compatibility with the iPhone 4/3GS/3G, second-, third-, and fourth-generation iPod touch, and the fifth-generation iPod nano. Adapters for other iPod and iPhone models can be purchased separately.

Apple's discontinued compact wired keyboard
In addition to the new Universal Dock,
AppleInsider notes
that Apple has discontinued its compact wired aluminum keyboard. The company had previously offered the compact keyboard in both wired and wireless versions, and continues to offer the extended wired keyboard that includes a number keypad to the right of the main keyboard area.
Update: Apple has also updated its Composite AV Cable and Component AV Cable offerings, reducing the price of each by $10 to $39 and no longer including the USB power adapter. It appears that Apple has reorganized its offerings to recognize that the power adapter should be included with the basic dock package and not with the cable accessories, as users in the past might have purchased both types of cables and found themselves with two power adapters for one dock.