JPMorgan Embracing iPad as Research in Motion Faces Challenges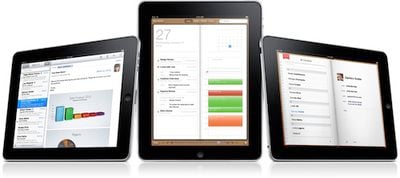 Last month, we
noted
that major U.S. banks Bank of America and Citigroup have been running pilot tests with an eye toward allowing their employees to abandon their corporate-standard BlackBerry devices in favor of the iPhone, demonstrating Apple's growing place in the business world and a increasing threat to Research in Motion's position in that market.
Bloomberg now reports that Research in Motion is facing challenges on the tablet front before it can even get its PlayBook out the door, with investment bank JPMorgan Chase opting to provide its employees with iPads to assist them with their work as part of a pilot study to gauge their effectiveness.
JPMorgan Chase & Co. will give its investment bankers iPads to provide an additional mobile tool as Apple Inc. expands its domain to Wall Street, threatening Research in Motion Ltd. in a market it traditionally dominated.
"We believe there are real benefits in our working environment that can be realized using this device - as well as the personal productivity and enjoyment that come as part of the package," two managing directors at New York-based JPMorgan said in an e-mail obtained by Bloomberg News.
According to the email, all associates in JPMorgan's global investment banking division will be eligible to receive free iPads, with the pilot program extending through May 1st, 2011.
Bankers will be able to access e-mails, contacts, calendar and attachments via Microsoft Outlook, as well as have the ability to mark-up and annotate confidential documents and make client presentations, according to the e-mail. They will also be allowed to download applications for personal use.
"There are a variety of ways to leverage the iPad. Some work off-the-shelf whilst others rely on JPMorgan software/security tools," the managing directors said. "Depending on its success we will evaluate if we should repeat this one time initiative and/or expand it to others."
Apple has been increasing its focus on enterprise deployment for the iPhone and iPad as the company has worked to build corporate-friendly features into iOS. The company has targeted Research in Motion's leadership position in the market, even going as far as to hire away a number of Research in Motion's key sales employees to head up its own efforts.
Update: Swiss bank UBS is also reportedly piloting the iPhone and iPad for its employees.