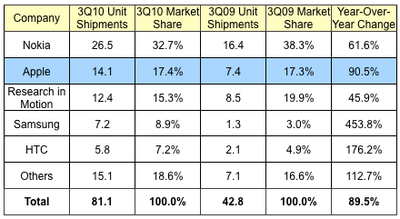 Worldwide Smartphone Sales in 3Q10 in Millions of Units (Source: IDC)
Offering a more complete look at the global smartphone sales for the third quarter of 2010 as
hinted at
by Canalys earlier this week, research firm IDC has now
published its data
on global smartphone sales, similarly revealing Apple taking second place with 17.4% of the market and ranking behind only Nokia's 32.7% share.
Apple marked a new milestone in iPhone shipments, enough to take the number 2 ranking worldwide. The third quarter is typically Apple's highest volume quarter, and 3Q10 was no exception. Consumers who did not get their iPhone 4 at the end of June were rewarded for their patience and even the much-hyped 'Antennagate' did little to dampen demand, as the company moved swiftly to provide solutions.
Apple's 90.5% year-over-year growth was only on par with that of the overall industry, but Research in Motion's slower growth of only 46% enabled Apple to take the #2 spot in the rankings.
Several smaller smartphone competitors embracing Google's Android platform saw tremendous year-over-year growth during the quarter, with Samsung rising to fourth place on over 450% growth and HTC seeing over 175% growth.