Photo of Prototype 13-Inch MacBook Air - With SSD Card?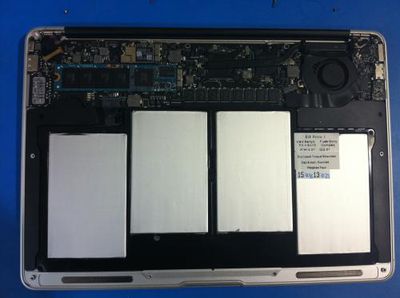 Engadget
posts
a single shot of what is claimed to be a prototype MacBook Air dating back to April 2010. The image comes from a source who had been shopping the images around to several tech sites last evening. The prototype device is labeled "K16".
Based on our own professional squinting ability, there are USB plugs on the left and right sides, Mini DisplayPort and an SD card reader on the left, and a power plug on the right.
The prototype unit is said to have been discovered in April 2010 and retains a 13" screen size form factor. We ran the image by iFixit's Kyle Wiens who thought the component near the top looked to be user upgradable flash, and also identified non-upgradeable SDRAM (although there may be a slot on the other side), and slightly larger battery capacity.
On Friday, Apple had been rumored to be introducing a new SSD Card storage in their upcoming MacBook Air. The new storage was described as closely resembling a "stick of RAM". It's possible this early prototype represents some of the early research done on that feature. The prototype, however, was the same size as existing MacBook Airs, so is unlikely to represent next week's launch product if the 11.6" screen-size rumors are to be believed.