iPad News Apps: 'NYTimes' Revamp, 'New York Post' In-App Subscriptions
A pair of New York newspapers are making news themselves today with their recent iPad app releases, with The New York Times introducing a greatly-expanded application and The New York Post rolling out a new app with subscriptions handled via in-app purchasing.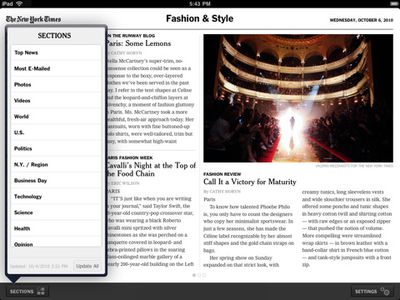 The original
NYTimes Editors' Choice
has been reborn as
NYTimes for iPad
, offering a significant expansion of available content from the very limited selection that was present in the original version. Content from over 25 sections of
The New York Times
is now available to those who already have or register for a free account, although the paper is planning to begin charging for access early next year.
Introducing the enhanced New York Times app for the iPad free until early 2011. Now with all of the sections, articles, videos and photos you expect from The Times.
The NYTimes iPad app now includes over 25 Times sections, including Arts, Technology, Politics, Science, Style and more. Experience breathtaking new sections for Photos and Video. Read a selection of the latest Times blogs. Share articles, photos and video through Facebook, Twitter and e-mail.
Apple had been reported to be working closely with The New York Times on an iPad application even before the device was publicly unveiled in January, but Steve Jobs was reportedly extremely displeased with the limited content made available in the initial product.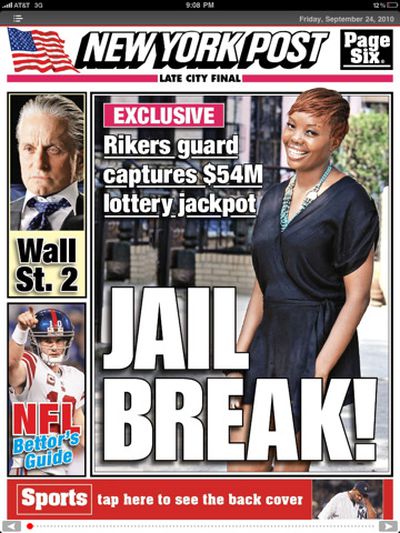 Meanwhile,
The New York Post
has launched
its own iPad app
, breaking new ground by offering monthly, biannual, and yearly subscriptions to the paper's content via in-app purchasing after an initial 30-day access period granted with the $1.99 download. As
noted by paidContent
, the newspaper will then support subscriptions priced at $6.99 per month, $39.99 per six months, or $74.99 per year, roughly half the cost of print delivery subscriptions.
Apple and newspaper publishers have been working to launch subscription content, but the two sides have been at an impasse over revenue sharing and subscriber information. The use of in-app purchasing for subscriptions in The New York Post's new app suggests that that newspaper has at least ceded to Apple's demands that content subscriptions be administered through the App Store itself, where Apple presumably will take its typical 30% cut of revenue.