Apple Stock Opens Trading at $300 Per Share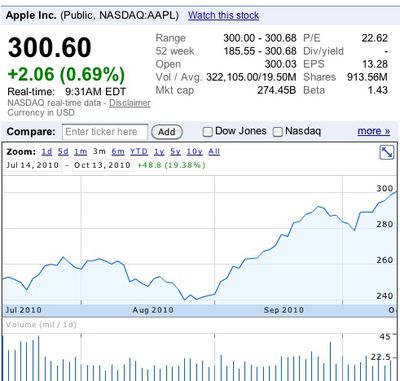 In something of a psychological milestone, Apple's stock opened for trading today at just over $300 per share, having risen 25% since late August and 42% since the beginning of the year.
Apple has passed several stock-related milestones so far this year, including blowing past $200 billion in market capitalization back in March and passing Wal-Mart in market capitalization just a few days later. In April, Apple's stock topped $250 for the first time, and by late May Apple had passed Microsoft to become the second-largest U.S. company by market capitalization, trailing only Exxon Mobil.
Since that time, Apple has expanded its lead over Microsoft in market capitalization to nearly $50 billion, although it has been unable to close the gap on Exxon Mobil as the energy giant's stock has also performed well over the last few months.
Apple is due to release its earnings report for the June-September quarter next Monday, with some observers predicting that the company will reach $20 billion in quarterly revenue for the first time in its history and surpass Microsoft in revenue for the first time in 15 years.