Wal-Mart Deal to Carry iPad Confirmed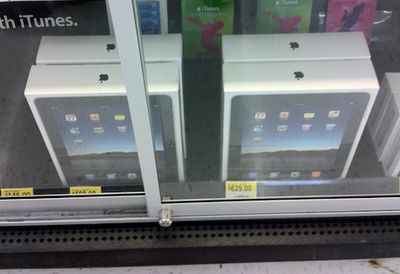 16 GB Wi-Fi and 32 GB Wi-Fi + 3G iPad models at Wal-Mart store in Steubenville, Ohio
Coming after
our report
late last week on Wal-Mart's preparations to begin offering the iPad for sale in the retail giant's stores,
The Wall Street Journal
has now
confirmed
(subscription required) the company's plans for an official launch on Friday. As we previously noted, however, some stores are already seeing iPads put on display and stock set out for sale.
The Bentonville, Ark., retail giant said that what it lacked in timeliness it will make up for in sales heft. It vowed to slowly ramp up the number of U.S. stores carrying the iPad to more than 2,300 by the height of the holiday season in mid-November.
There will also be no Wal-Mart "rollback" price cut on the iPad: The tablets will sell for Apple's suggested retail price, which starts at $499 for the cheapest version with 16 gigabytes of storage and wireless internet access but no 3G mobile connection.
Wal-Mart will also offer online ordering for the iPad, but only for in-store pickup and not for delivery, a policy similar to that employed for other Apple products offered by the retailer.
The iPad will also be featured in an "interactive display" alongside Apple's other products in Wal-Mart stores, serving to draw customers' attention to the device and demonstrate its capabilities.