Microsoft, Samsung Take on Apple With New Smartphone Announcements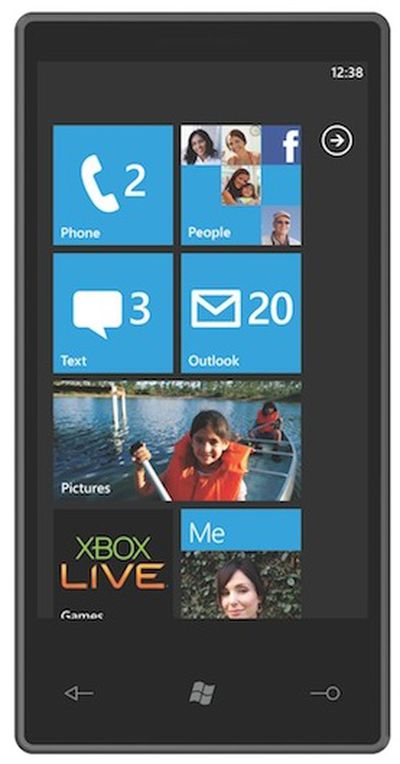 Windows Phone 7 Start screen
As
predicted
, Microsoft today
unveiled
Windows Phone 7, the next-generation smartphone operating system serving as the successor to and rebranding of the company's Windows Mobile software. One of the software's key features is the use of integrated "hubs", offering content views based on content rather than specific applications. Hubs will include People, Pictures, Games, Music+Video, Marketplace, and Office.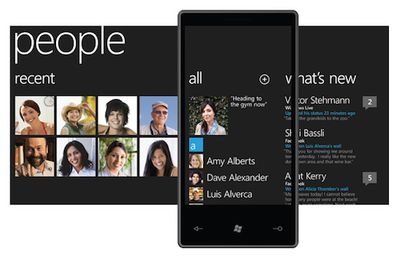 Windows Phone 7 "People" hub
In addition, "live tiles" on the system's Start screen will offer real-time information updates, and a dedicated hardware button will provide one-click access to Bing search tools.
With Windows Phone 7 Series, Microsoft takes a fundamentally different approach to phone software. Smart design begins with a new, holistic design system that informs every aspect of the phone, from its visually appealing layout and motion to its function and hardware integration. On the Start screen, dynamically updated "live tiles" show users real-time content directly, breaking the mold of static icons that serve as an intermediate step on the way to an application. Create a tile of a friend, and the user gains a readable, up-to-date view of a friend's latest pictures and posts, just by glancing at Start.
A number of handset manufacturers and carriers have committed to the Windows Phone 7 Series platform, and the first handsets based on the operating system are scheduled to become available in "holiday 2010".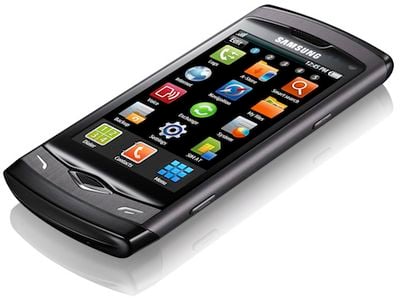 Samsung Wave
Samsung yesterday also
announced
the
Samsung Wave
, the first handset to be based on the company's own
bada
platform. The Wave offers an 800x480 active-matrix OLED screen, 5-megapixel camera, Samsung's revised TouchWiz 3.0 user interface, and 2 GB of internal storage with a microSD slot allowing for up to an additional 32 GB.
The Samsung Wave offers a Super AMOLED 3.3" display that makes the screen truly come alive, a Social Hub to bring you closer to your contacts and connections, and TouchWiz 3.0 for an intuitive and hugely customizable user interface. The Wave's high-speed CPU ensures swift, smooth application experiences and multi-tasking, making the device an always-on mobile multimedia companion. The Samsung Wave has been built to offer users an unrivalled level of performance, customization and choice in how they connect with their world. The stunning full touch mobile will be available globally from April 2010.