Consumer Preference for iPhone and Android Returns to Neck-and-Neck Race
Market research firm ChangeWave has published the results of a new survey of its professional and early-adopter consumer audience, once again revealing nearly equal preference for the iPhone and Android devices among those planning to purchase a handset within the next three months.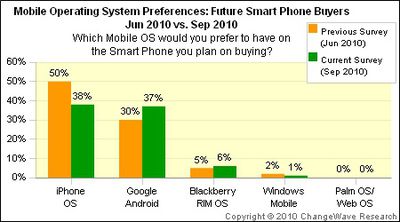 The numbers show a return to the neck-and-neck race between the two platforms that saw the iPhone temporarily grab a
20-percentage-point advantage
over Android back in June as customers awaited the launch of the iPhone 4.
Discounting the iPhone 4 blip seen in June, both Apple and Android appear to still be growing at the expense of their competitors, with preference for the iPhone moving from 29% to 38% between March and September while Android saw an increase from 30% from 37%. Interest in Research in Motion's BlackBerry operating system has been halved to 6%, while Windows Mobile has fallen from 5% to 1% and Palm has disappeared from the radar over the same timeframe.

The iPhone continues to top ChangeWave's user satisfaction ratings, with 74% of customers saying that they are "very satisfied" with their handset, a figure that has been relatively stable over the device's entire lifespan. That compares to 65% of Android customers registering as very satisfied, down slightly from some earlier editions of the survey but still much closer to the iPhone than to Palm, BlackBerry, and Windows Mobile, which all find themselves in the 24-32% range for user satisfaction.