Apple's Share of Mobile Phone Industry Profits Reportedly Rises to 39%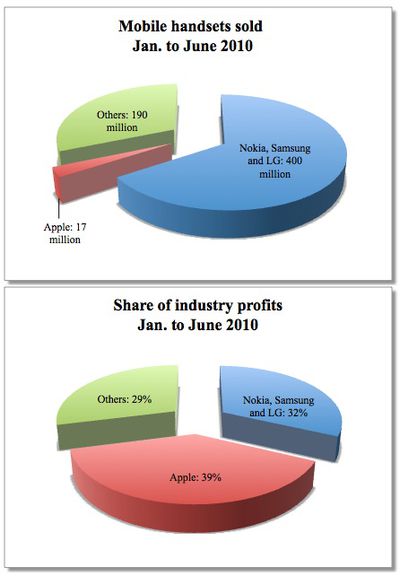 Fortune reports
on a new research note from Canaccord Genuity analyst T. Michael Walkley which compares Apple's performance in the mobile phone industry to that of some of the other major players for the first half of 2010. According to the report, Apple sold 17 million iPhones during the first half of the year, a minuscule fraction of the 400 million handsets sold by top manufacturers Nokia, Samsung, and LG combined. But when looking at industry profits, Apple snagged 39% of the pie while the other three companies combined to take only 32%.
We are also impressed with Apple's ability to monetize its innovative products through selling high-margin consumer products that drive strong earnings results and growth trends for Apple shareholders. A case in point is the mobile phone market, where most handset OEMs struggle to post a profit or even 10% operating margins (except RIM and recently HTC), while we estimate Apple boasts roughly 50% gross margin and 30%+ operating margin for its iPhone products.
Walkley goes on to note that Apple "leads the industry in every metric except for unit share".
The data points to a continuation of a long-standing trend in the mobile phone industry that saw Apple taking 20% of profits in 2008 and 32% of profits in the first half of 2009.