Apple's Share of Cellphone Industry Profit Estimated at 32% for First Half of 2009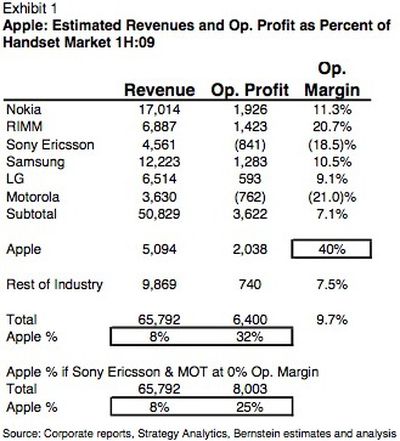 All Things Digital reports
on research from analyst Toni Sacconaghi of Bernstein Research that shows Apple holding 32% of the cellphone handset industry's operating profits for the first half of 2009. Apple's profit share is driven by high average selling prices and high margins on the iPhone, which accounts for only 8% of industry revenue and under 2% of industry unit sales.
"Our analysis indicates that Apple's iPhone accounted for only 8% of handset industry revenues but 32% of industry operating profits in 1H09," Sacconaghi wrote in a note to clients today. "Even if we exclude the operating losses generated by Motorola and Sony Ericsson, Apple still accounted for 25% of industry profits. iPhone's success is akin to Apples position in the PC industrywhere the company enjoys an estimated 25% of industry profits, despite capturing only 6% of industry revenues."
The study follows on the heels of earlier estimates for all of 2008 from Deutsche Bank analyst Brian Modoff showing that Apple claimed 20% of the handset industry's profits. That earlier study had also estimated that Apple and Research in Motion's combined share of industry revenue would rise to 58% in 2009 from 35% in 2008, numbers which bear close resemblance to the first-half 2009 data released by Sacconaghi estimating the combined companies' share of profits at 54% (Apple 32%, Research in Motion 22%).