Apple Taking Steps to Address App Store Name Squatting?
Nearly a year ago, we noted reports of App Store "name squatting", a practice in which users signed for the Apple's App Store developer program could register the name of an application without actually submitting a binary for it. At the time, at least one developer admitted to hoarding "dozens and dozens of good sounding applications names" just in case they came up with an idea to go along with one of the names.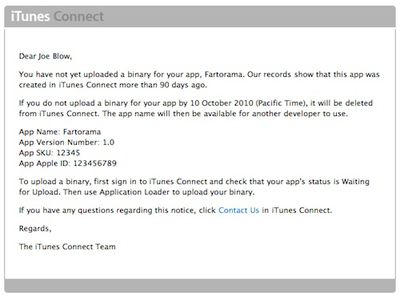 Email sent to developers "squatting" on application names (developer name and details altered for privacy)
Over the weekend,
TechCrunch noted
that Apple has begun to take steps to address the App Store name squatting, contacting developers who had yet to upload a binary within 90 days of creating their application's entry in iTunes Connect and notifying them that they will have 30 additional days in which to upload a binary before their entry is deleted.
But now, Apple has begun emailing developers if they've failed to upload their binary for 90 days after first starting the app creation process. Apple warns the developer that they have another 30 days to do so, or the record will be deleted from iTunes Connect. And the key point: "The app name will then be available for another developer to use."
Depending on how widespread the practice of name squatting is, developers may soon find themselves with additional options available for naming their apps as these names that have been limbo for extended periods of time begin to come off of the rolls.