Exclusive Preview: Courier for Mac by Realmac Software
Last week, Realmac Software, the makers of RapidWeaver, LittleSnapper and other applications for the Mac, had released a teaser video of its upcoming Courier application. Courier will be released tomorrow and we've had a chance to try it out to provide a preview of how it works.
Courier for Mac is a file sharing utility that allows you to send files to multiple destinations at once, making it easy to do things like post pictures to Facebook and Flickr at the same time, for example. At launch, Courier will work with Facebook, Flickr, YouTube, Ember, Amazon S3, and Vimeo with more services coming soon. Realmac will also be offering a plug-in API so that 3rd party developers can offer their own service plug-ins.
Courier's interface revolves around envelopes that you set up to use the desired services. For example, you can address (or "stamp" in Courier's parlance) one envelope to send items to YouTube and Vimeo, and another to Flickr and Ember.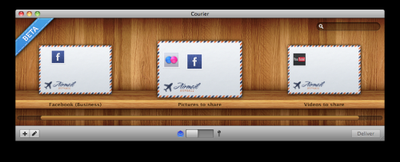 If you have multiple accounts for any service, you can set up envelopes to target these specific accounts so you send files to only the ones you target. This would be useful for those who do something like sharing family pictures in a private Flickr account but also share other photos more publicly via Facebook and another public Flickr account. There is no limit to the number of envelopes you can create and you can even include multiple destinations for a single envelope.

Perhaps most importantly, Courier also integrates the envelopes you've set up with the Mac OS Services menu accessible with a right mouse click, making it easy and convenient to choose items to share and upload.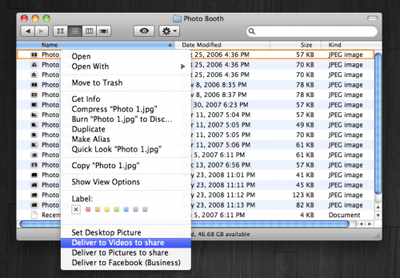 Once you've selected and uploaded items, these "Deliveries" will be shown in a cute map view that displays the originating and destination server locations.

Courier will be available starting tomorrow and will cost $19.95 for a limited time as a special introductory offer, after which it will cost $24.95. It will require Mac OS 10.6 or later and a 64-bit compatible Mac. Realmac Software has created a Courier Twitter account, @courierapp, where followers will have early access to the application before it's available on the Realmac site.