ID8-Mobile today announced the MoGo Talk XD for iPhone 4, claiming to be the Worlds thinnest and only high-performance Bluetooth headset + protective case system.
According to ID8-Mobile, one of the major challenges for bluetooth headset users is keeping their headset handy with their phone without constantly wearing it. Their solution is the MoGo Talk XD for iPhone 4, an integrated solution that provides an iPhone4 case which also allows for docking the included slim-profile (5mm thin) bluetooth headset.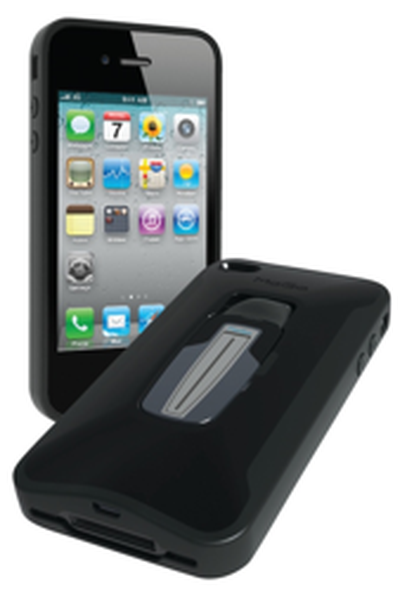 Stuart Nixdorff, CEO and President of ID8-Mobile, had the following to say about the product:
The convenience, functionality and thin design of MoGo Talk XD make it a Smart accessory with unmatched significance. With MoGo Talk XD, the Bluetooth headset is always ready for use without adding unnecessary bulk to the iPhone 4. The iPhone was designed to be the thinnest Smartphone on the market, and users shouldnt have to compromise that when they decide to add features that are supposed to enhance it, and cases that are meant to protect it. Technology is supposed to improve efficiency for the consumer, and too often it just becomes an added frustration. MoGo Talk XD optimizes Bluetooth technology to provide consumers with the most convenient and elegant Smartphone.
With so much attention to industrial design and aesthetics, we wondered whether user comfort was lost. Mr. Nixdorff indicated to us that comfortability hadn't been overlooked.
The MoGo Talk is extremely comfortable for long term wear and every day use. We have designed and patented the exclusive SoundShape ear bud design that softly yet securely conforms to the unique shape over each individuals ear. As you put on the MoGo Talk, it comfortably fits like a great pair of in-ear professional headphones. The SoundShape design is much better than the older designs on the market today where you have to bend a hard wire around your ear or shove a larger speaker into your ear.
The MoGo Talk XD for iPhone 4 will begin shipping September 1 and will be made available through select authorized retailers for a suggested retail price of $99.99. Current MoGo Talk headset owners can upgrade to the Slim MoGo Grip Case for iPhone 4 for $24.99 or 3G/3GS for $19.99 (A $10.00 savings) for a limited time by ordering online at www.mogostore.com.
Update 8/17/10: Upgrade pricing updated with new information from ID8-Mobile