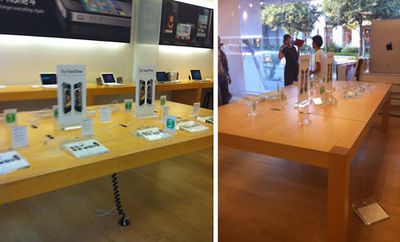 Photos by cforand1293
User cforand1293 provides a first-hand account of a robbery at Apple's Knox Street retail store in Highland Park, Texas, north of downtown Dallas.
The robbery reportedly took place Friday evening before the store's 9pm closing time, as men entered the store and took iPhones from the front display table (pictured). cforand1293 described seeing the robbery while he was in the store with his wife and children, saying that Apple's employees did not attempt to stop the robbery. There were apparently no injuries.
The Sagemore Apple retail store was the scene of a daring smash-and-grab burglary in September 2009.