Apple Patent Application Looks at Converting Video Game Play Into Comic Books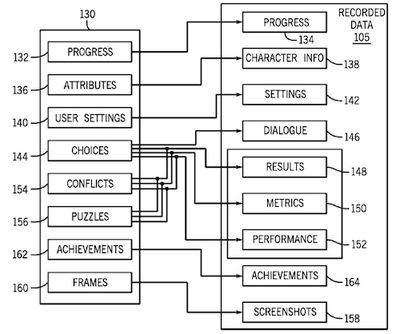 Flowchart of video game user data collected for creating eBook or comic book content
Patently Apple takes a look
at an off-the-wall
Apple patent application
published today describing methods to convert a computer user's video game play into a "book, e-book, or comic book".
In accordance with one disclosed embodiment, data may be recorded from a videogame executed on an electronic device. The recorded data may include character information, dialogue from the videogame, and results and metrics reflecting the performance of the user in the videogame. The recorded data may be inserted into a narrative data structure having pregenerated text. In some embodiments, the recorded data may be used as the basis for selecting among a plurality of pregenerated text. A book, e-book, or comic book may be produced from the narrative data structure.
The book content could then be viewed on an electronic device or printed in hardcopy form.

Drawing of Mass Effect screenshot showing profile creation options
As an example of how this technology could be used, Apple offers a series of screenshots from the profile creation portion of the video game
Mass Effect
, showing how information selected or entered by the player could be used to create a narrative for a book based on the game play.
Mass Effect
in particular offers users differing game play experiences and endings depending on choices made in the game. Apple's suggested technology could allow users an easy way to share their experience in the game with others once the game has been completed.