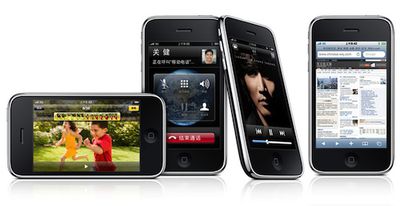 The Wall Street Journal reports
that China Unicom will begin selling Wi-Fi enabled iPhone models in that country beginning next week. The news comes a government regulatory body
approved
the device's frequency ranges in early May, but at the time the company was still waiting to receive a network access license in order to begin sales.
China Unicom (Hong Kong) Ltd. plans to start selling a version of Apple Inc.'s iPhone with Wi-Fi capability in China next week, a China Unicom official familiar with the situation said Thursday.
The iPhones that Unicom has offered in China so far have come with the wireless function disabled to comply with previous government regulations, but the missing function has made the phones less attractive to buyers.
The Associated Press confirms the report, adding that the Wi-Fi capable device will be Apple's new 8 GB iPhone 3GS and it will go on sale on Monday.
Unicom will sell eight-gigabyte iPhones with third-generation service and Wi-Fi throughout China starting Monday, a company spokesman, Wen Baoqiu, said Friday.
Apple and China Unicom have been rumored to be finalizing a deal to bring the iPhone 4 and iPad to China, but no official announcements have been made.