Second Round of iPhone 4 Launches Begins in Australia [Updated x2]
As announced by Apple CEO Steve Jobs earlier this month and confirmed in a company press release earlier this week, Apple has begun its second round of iPhone 4 launches, bringing the device to 17 new countries. Countries in this round of launches include Australia, Austria, Belgium, Canada, Denmark, Finland, Hong Kong, Ireland, Italy, Luxembourg, Netherlands, Norway, New Zealand, Singapore, Spain, Sweden and Switzerland.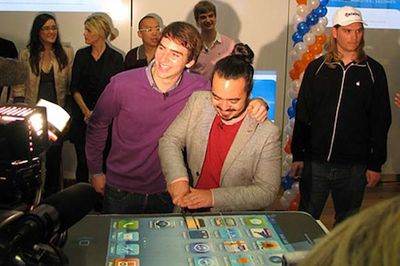 Cutting an iPhone 4 cake at Telstra's Sydney launch party
The Sydney Morning Herald
offers
coverage
of the launch in Australia, where a number of Apple's carrier partners one-upped the company's 8:00 AM retail store openings by launching the iPhone 4 at midnight local time.
But in the race to score the most customers, Optus, Telstra and Vodafone/3 bent over backwards to ensure the wait was an event in itself. Singer Kelly Rowland greeted customers at Optus, Vodafone plied its faithful with free booze and Telstra offered fine cuisine.
Sources say each telco has received only about 12-13,000 iPhone 4 units in the first batch, and with Optus alone getting over 100,000 pre-order customers, stock is likely to run out within days.
Things appear to be going less swimmingly in New Zealand, which is two hours ahead of Sydney. According to local reports, Apple's deal with Vodafone has been canceled in that country as all mentions of the device disappeared from the carrier's site yesterday and no launch plans had been announced. We also received word that Vodafone has posted signs in its stores this morning stating that the launch will not be taking place today.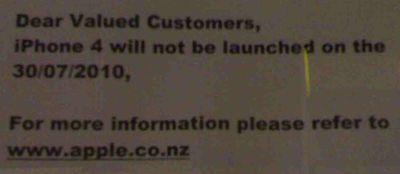 Sign posted in Vodafone New Zealand store window
The change would appear to leave customers scrambling, with unlocked iPhone 4 models at unsubsidized prices set to be available through Apple's online site as their only option in that country, although rumors also suggested the device might be available through other retailers there.
A Vodafone spokesman declined to comment and directed questions to Apple, whose representatives have not yet returned nzherald.co.nz's calls.
But it is understood that Apple's deal with Vodafone is off and the gadget won't be available from New Zealand stores tomorrow, only online from Apple.
Then again, another rumour gaining ground on Twitter is that retailer JBHiFi will be selling the iPhone 4 tomorrow.
South Korea had also been originally scheduled to be included in this wave of launches, but Jobs announced at the iPhone 4 press conference earlier this month that the launch there would be delayed as the company continues to seek government approval of the device there. Government officials have disputed that notion, however, claiming that Apple has yet to even submit the iPhone 4 for approval.
At the iPhone 4's introduction at Apple's Worldwide Developers Conference in June, Jobs announced that 24 unspecified countries would be included in a third round of launches set for August, with an additional 40 countries set to see the iPhone 4 in September, bringing the total to 88 countries. It is unknown, however, whether Apple is still planning to adhere to that schedule.
Update: We've heard that both Vodafone and JB Hi Fi are claiming that a "shipping error" is responsible for the cancellation of today's launch in New Zealand.
Update 2: The New Zealand Herald reports that the iPhone 4 did finally go on sale at selected Vodafone stores there at mid-day, with Apple set to follow with unsubsidized sales later today.
With iPhone mobile provider Vodafone saying it would not launch as promised, backed up by retailers JB Hi-Fi and Magnum Mac who all told nzherald.co.nz that the device wouldn't go on sale today, there was massive confusion over whether Apple fans could get their hands on the device at all.
But this changed late this morning with Vodafone announcing that it would be sold from midday at selected non-partner stores. Apple have since announced that it will be available for purchase on the apple.com/nz/ website this evening. Pricing starts at $1099 to buy the device outright, although Vodafone is offering subsidised on-account plans.