Apple Updates Safari 5 to Officially Activate Extensions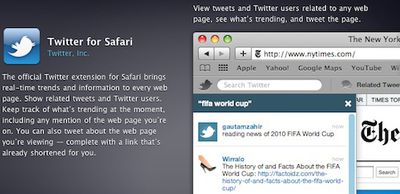 Apple today
announced
that it has released
Safari 5.0.1
, officially launching the "extensions" feature that it partially activated
last month
with the initial release of Safari 5 to permit developers to begin work on their plug-ins. Extensions from third-party developers allow users to extend browser functionality far beyond that offered in the basic application.
Apple today released Safari 5.0.1, turning on Safari Extensions and introducing the Safari Extensions Gallery. Apple introduced extensions support in Safari 5 in June so developers could begin creating extensions with HTML5, CSS3 and JavaScript web standards. With Safari Extensions Gallery, users can quickly find extensions that add powerful new features to Safari, from toolbars that display live web feeds to sophisticated programs that filter web content. Safari 5.0.1 allows users to download and install extensions either from the Safari Extensions Gallery or directly from a developer's site.
"Safari 5 has been a big hit, and user response to the innovative new Safari Reader has been fantastic," said Brian Croll, Apple's vice president of OS X Product Marketing. "We're thrilled to see so many leading developers creating great extensions and think our users are going to love being able to customize Safari."
Apple has also launched its Safari Extensions Gallery, allowing easy access from the "Safari" menu for users to browse and install featured extensions. The gallery already features extensions from such companies as Twitter, The New York Times, The Weather Channel, Amazon, and eBay, as well as a host of smaller developers.
Apple has been inviting developers to submit their extensions for consideration for inclusion in the Safari Extensions Gallery and has thus been able to hit the ground running with a significant library of plug-ins. Users are not limited to extensions featured in the Safari Extensions Gallery, however, as extensions are hosted by the developers themselves and users are free to install them from anywhere.
Safari 5.0.1 and a companion release of Safari 4.1.1 for Tiger that does not support extensions also bring a number of other enhancements and fixes as detailed on Apple's download pages.