Amazon Adds Embedded Audio and Video to iOS Kindle Apps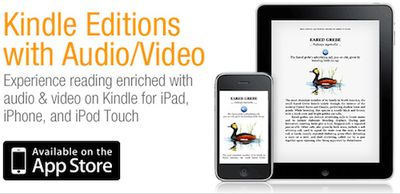 Amazon today
announced
the launch of embedded audio and video clips for its
Kindle
eBook application for the iPad, iPhone, and iPod touch.
Amazon.com, Inc. (NASDAQ: AMZN) today announced a new update to Kindle for iPad and Kindle for iPhone and iPod touch, which allows readers to enjoy the benefits of embedded video and audio clips in Kindle books. The first books to take advantage of this new technology, including Rick Steves' London by Rick Steves and Together We Cannot Fail by Terry Golway, are available in the Kindle Store at http://www.amazon.com/kindleaudiovideo.
As an example of the utility of the feature, the press release points to travel guides such as Rick Steves' London, which contains an embedded audio walking tour of the city.
"In the new Kindle Edition with audio/video of Rick Steves' London, the embedded walking tours allow customers to listen to Rick as they explore the sites of London," said Bill Newlin, publisher, Avalon Travel. "Rick's narration adds depth to the reader's experience, while listeners can follow the routes more easily with the text."
The update brings a new weapon to Amazon's arsenal in the increasing arms race among eBook retailers looking to lure readers to their platforms. Apple's iOS platform is serving as a major venue in which the competition is playing out, with all of the major participants including Amazon, Barnes & Noble, Borders, and Apple itself deploying dedicated applications for their services.