iOS 4 Features: MultiTasking, Folders, and Much More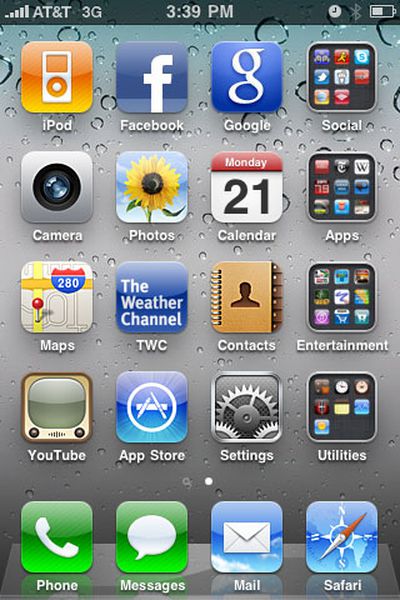 Image from
Post your Home screen
thread
Today's release of
iOS 4
marks a major upgrade to Apple's iPhone and iPod touch devices. High demand for the software update has caused a strain on Apple's servers resulting in slow downloads for many customers. For those who are able to get the software downloaded and installed, here are a few walkthroughs that go over the major features found in the new iOS.
- iLounge: Apple iOS 4.0
- ArsTechnica: iOS 4: what's new, notable, and what needs work
- Macworld: Exploring iOS 4's multimedia features
- TiPb: iOS4 Walkthrough
- Gizmodo: Hidden Secrets of iOS 4
From a casual user standpoint, the biggest features will include:
- Folders - With the explosion of the App Store, App management has been a major issue. The introduction of Folders allows users to simply drag and drop icons on top of each other to create a custom folder of Apps. Tapping on the folder brings up a display of all the enclosed icons.
- MultiTasking / Fast App Switching - Exiting an App will now place it into a suspended mode that allows you to return to it quickly... at least for those apps that support it. Meanwhile, Apps with more sophisticated needs such as Pandora Radio can continue to play streaming music after you've left the app. Double tapping on the home button gives you a display of most recent apps that you've used and also gives you quick access to the iPod/Music controls if you swipe right on the icon bar.
Note that Apple's Game Center is not yet live. While an early version was provided to developers, Apple does not plan to launch the social gaming service until later this year.