iPhone 4 Orders Being 'Prepared for Shipment'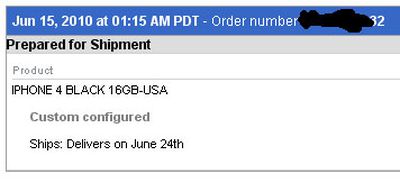 Many of those who have been obsessively checking their order status at the U.S. Apple online store have seen their
order status move
from Not Shipped to "Prepared for Shipment". Due to the massive volume of pre-orders, Apple will likely start shipments early but ask the shipper (FedEx or UPS) to hold the package at the destination warehouse in order to time simultaneous delivery on June 24th.
Meanwhile, customers who ordered their iPhone 4 from AT&T have seen some early credit card charges and they are organizing in this discussion thread.
Finally, those who are planning on camping out or meeting up at their local Apple Stores or AT&T stores can participate in our Meetup forum where users are posting threads by location. The demand for the iPhone 4 seems particularly high so getting one on day number one will be difficult without a pre-order or arriving early to stand in line.
Useful forum links:
- The U.K. iPhone 4 Thread
- iPhone 4 Order Goes from Not Shipped to Prepared for Shipment
- AT&T Order Status Thread
- iPhone 4 Launch Meetup Forum