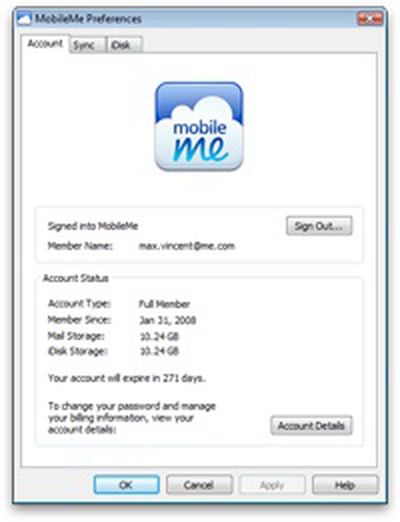 Apple
notes
on its MobileMe News page that, alongside yesterday's
iTunes 9.2 release
, the company updated its
MobileMe Control Panel for Windows
application that allows Windows users to sync contacts, calendars and other information with MobileMe.
In addition to being compatible with iTunes v.9.2, the new Control Panel delivers improved contact sync with Microsoft Outlook, giving you the new option to place all contacts into the main address book folder in Outlook. This makes it easier to search and use autocomplete with those contacts in Outlook, even when your contacts are organized into groups on MobileMe.
The updated MobileMe Control Panel for Windows is termed Version 1.6 and weighs in at 5.05 MB. System requirements include Windows Vista SP1 or later, Windows XP Home or Professional SP2, or Windows 7, along with iTunes 9.2 or later and a MobileMe account. Microsoft Outlook 2003 or 2007 is also required for those users wishing to sync calendars.