U.S. Shipping Estimates for iPhone 4 Pre-Orders Through Apple Slip Again to July 14th
Close on the heels of Apple's announcement that it received over 600,000 pre-orders for iPhone 4 yesterday, the company has once again delayed shipping estimates for new pre-orders in the United States.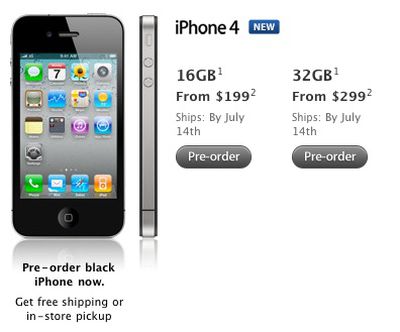 Last night, the company
sold out
of its initial stock for the device's June 24th launch, pushing new pre-orders out to a July 2nd shipping date. The company apparently burned through that second wave of supplies in only about 16 hours, however, as the
online Apple Store
is now showing shipping dates of July 14th for new pre-orders of both 16 GB and 32 GB iPhone 4 models.
Meanwhile, AT&T's iPhone pre-ordering system remains offline as the carrier attempts to catch up from yesterday's rush and gauge future supplies.