More Details on AT&T's Data Plan Changes for iPhone and iPad
TUAW got in touch with an AT&T spokesperson and has put together an extensive Q&A clarifying some of the details of the carrier's upcoming changes to its iPhone and iPad data plans. Among the topics addressed:
- AT&T will continue to offer the $14.99 250/MB data plan for the iPad. It will not be reduced to the 200 MB cap the carrier will be offering on its cheaper smartphone plan.
- iPad users reaching their 2 GB limit under the forthcoming plan will be able to initiate a new monthly cycle on demand with a new start date. This would appear to make the iPad plan more of a "2 GB or 30 days, whichever comes first" cycle than a "30 days with 2 GB cap plus overage fees" cycle, with the exception being that users will have to manually initiate a new cycle should they reach their 2 GB cap before the end of the billing cycle.
- iPhone users can bump up from the $15 200 MB data plan to the $25 2 GB plan without penalty as long as they initiate the change before the end of the desired billing cycle. This will allow users on the lower tier to simply bump up to the $25 plan as needed rather than having to pay $15 per additional 200 MB over the initial 200 MB limit. Users can then bump themselves back down for their next billing cycle. It is unclear at this time whether users on the higher tier will be able to drop down to the lower tier mid-cycle if they see that their data usage will be low for that period.
- Original iPhone users still on 2G plans are unaffected by the new plan changes, although AT&T has indicated on its Facebook page that those customers will continue to be able to upgrade to the current $30 unlimited data plan even after it is officially discontinued and the new plans are rolled out.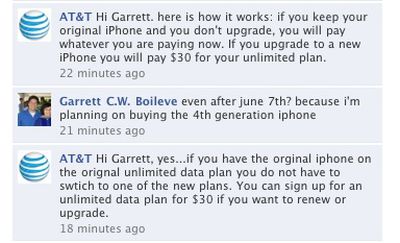 - iPhone customers upgrading their handsets and signing new contracts will be able to continue on their existing unlimited plans. The representative noted, however, that AT&T may offer "new desirable plans" alongside the next-generation iPhone, although the comment appears to be more of general statement than a specific disclosure of the company's plans.