'ABC Player' Updated to Support 3G Streaming and Landscape Orientation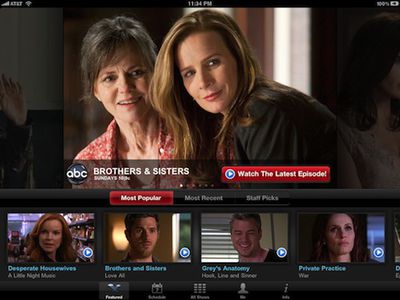 Earlier today, we
noted
that ABC had updated its
ABC Player
application for the iPad to support video streaming over 3G networks and that the new version had been submitted to Apple for review.
Apple certainly didn't take long to look it over, however, as the updated version is now live in the App Store. In addition to 3G streaming, the new version brings a number of other improvements, notably including support for landscape orientation in all screens within the application.
This update includes improvements that you have asked for including:
- 3G streaming (requires a 3G capable device)
- Landscape orientation support for all screens
- Support for the iPad's orientation lock
- Updated player controls that are more responsive
- Improved display of parental ratings
- Numerous other bug fixes and stability enhancements
In order to support 3G streaming, ABC appears to have been required to add a lower-quality video stream for the system to default to when network performance demands it. In general, iPad users are experiencing lower quality video when streaming via 3G than via Wi-Fi, with different applications offering varying amounts of visible degradation on cellular networks. YouTube in particular has been cited as offering much poorer quality streams over 3G.