Research Firms Paint Very Different Pictures of First Quarter U.S. Mac Sales
Research firms Gartner and IDC yesterday both released preliminary reports detailing U.S. and worldwide PC shipments for the first quarter of 2010, and the two firms interesting offer very different pictures of Apple's U.S. performance during the quarter.
According to Gartner's report, Apple placed fifth among U.S. computer shipments with an 8.0% market share on unit growth of 34.0% over the year-ago quarter. Apple's market share was up significantly from the previous quarter's 7.5% share and from 7.2% in the year-ago quarter. The year-over-year increase moved Apple to its highest share first-quarter market share in recent years, in what is traditionally a light quarter for industry sales.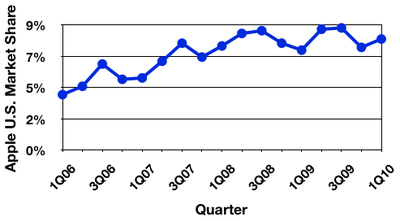 Apple's U.S. Market Share Trend: 1Q06-1Q10 (Gartner)
Overall, Gartner saw a healthy 20.2% gain in U.S. PC shipments over the year-ago quarter. The top five performing manufacturers broke down into three groups, with leaders HP and Dell showing slow growth of only approximately 7% while Acer and Toshiba continued to ride the wave of netbook popularity with 50% year-over-growth. Apple's 34% growth places it firmly in front of the industry average, but continuing to lose ground to those directly ahead of it in the charts.

Gartner's Preliminary U.S. PC Vendor Unit Shipment Estimates for 1Q10 (Thousands of Units)
For its part, IDC takes a much more
dismal view
of Apple's U.S. performance during the quarter, calculating Apple's market share there at only 6.4% on shipments of just over 1.1 million Macs, well below Gartner's estimate of nearly 1.4 million units. IDC's numbers have Apple's U.S. shipments growing only 8.3% year-over-year, significantly below the industry's overall growth rate of 16.9%.
It is unclear from where the discrepancy in data for Apple's shipments comes in the two reports, although most research analysts are expecting in the range of 25-50% year-over-growth in Mac sales for the quarter. While Apple's U.S. sales growth measured by Gartner and IDC may differ from global sales growth being predicted by the analysts, Gartner's analysis appears at this time to be a more realistic assessment of Apple's performance. We should learn more on Apple's sales next Tuesday, when the company releases its quarterly earnings report.