Apple Announces Multitasking in iPhone OS 4.0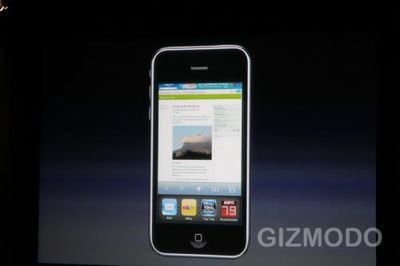 Image courtesy of Gizmodo.com
At its 'Sneak Peek Into the Future' media event today, Apple
announced
several major feature additions, including multitasking and an in-app ad network, to
iPhone OS 4.0
for release this summer.
The most significant new feature of iPhone OS 4.0 highlighted by Jobs is multitasking, which recent rumors had indicated might be coming. Apple had not previously implemented this feature out of concern for battery life and overall performance, although Jobs said that the company had found a way to implement multi-tasking without these negative effects.
Providing a demonstration of multitasking, Jobs showed a pop-up tray at the bottom of the iPhone's screen - which is triggered by double-clicking the home button - with the icons of all currently-running apps displayed. Clicking on the desired app opens it without closing the other apps. Scott Forstall, SVP of iPhone Software, described the multitasking feature in more detail, claiming that the company "distilled the services" that third-party apps need to run in the background, and these services are available as APIs to developers.
The seven multitasking APIs now available to developers are: background audio, voice over IP (VOIP), background location, push notifications, local notifications, task completion, and fast app switching. Demos highlighting the new APIs used Pandora, Skype, TomTom, and Loopt. Incoming notifications can be shown just below the status bar or in a pop-up dialogue on the home or lock screen.
While the iPhone 3GS and late 2009 32 GB and 64 GB third-generation iPod touch will be fully-compatible with iPhone OS 4.0, earlier models of the devices will not support all of the features announced today. Notably even the iPhone 3G and second-generation iPod touch will not support multitasking. iPhone OS 4.0 will also come to the iPad in the fall.