Google Rolls Out iPad-Formatted Gmail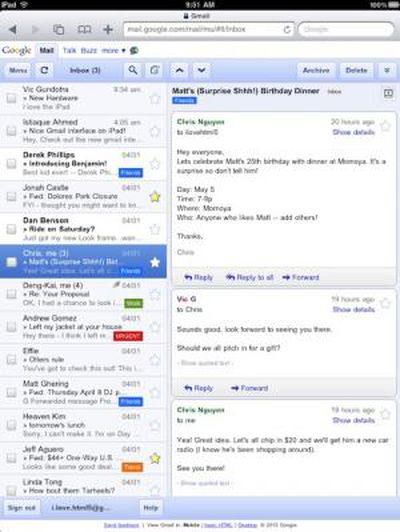 Google today
announced
that it has rolled out a new iPad-formatted mobile interface for Gmail, building on the HTML5-based mobile format used for the iPhone to create a two-column interface like that used for Apple's Mail application on the iPad.
We're releasing an experimental user interface for the iPad built on the Gmail for mobile HTML5 web app that we launched last year for the iPhone and Android devices. Those devices have large screens compared to other phones, and tablets like the iPad give us even more room to innovate. To take advantage of the iPad's large display, we've created a two-pane view with your list of conversations on the left and messages to the right.
iPad users will be automatically presented with the new format when they navigate to gmail.com on the device.
Google has also taken the opportunity to promote its other contributions to the iPad, including the YouTube application originally found on the iPhone that has been redesigned for the iPad. The iPad's Maps application also takes advantage of such features as terrain view that are not available on the iPhone version of the application.
Finally, Google notes that it is providing a mix of desktop and mobile interfaces for its web-based services on the iPad, based on its determination of which interface "works best" with the device. Everything is currently experimental, however, and decisions and features are subject to change over time as Google continues to play with the iPad and users offer feedback on how to improve its offerings.