iPad Poised to Grab Significant Portion of e-Reader Market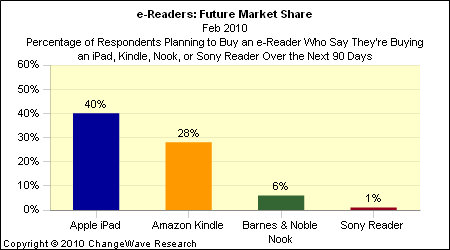 Last week, RBC Capital Markets analyst Mike Abramsky
released
the results of a survey showing pent-up demand for the iPad exceeding that of the original iPhone, highest customer demand for low-capacity Wi-Fi-only and high-capacity 3G-enabled iPads, and moderate cannibalization of other Apple products by the iPad.
ChangeWave today released additional data from the survey, showing Apple poised to take the top spot among e-reader purchasers over the next 90 days, with 40% of purchasers in the survey planning to opt for an iPad. Amazon's Kindle holds the second spot in the survey at 28%, with Barnes and Noble's Nook placing third at only 6%.
In short, while the iPad launch is likely to strengthen overall e-Reader demand, the survey suggests Amazon and its competitors could well find themselves relegated to playing catch-up within just a few quarters if they don't preemptively move quickly to upgrade their own e-Readers.
Also of interest is ChangeWave's data from customers who already own an e-reader, 27% of whom would have purchased an iPad had it been available when they made their purchase. 45% of purchasers would still have purchased their current e-reader, while 30% registered as undecided.
Finally, in looking at timing for iPad purchasing, the survey found that many potential iPad customers are looking beyond the usual 90-day window typically used by ChangeWave for its data, with purchasing windows actually peaking in the 4-6 month post-launch timeframe and considerable numbers of customers planning to hold off even longer.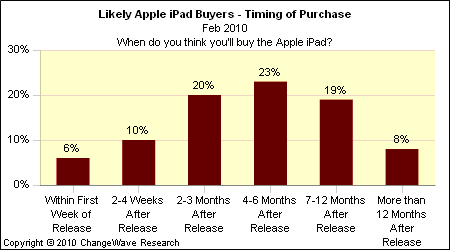 It is important to note that ChangeWave's research focuses mainly on business, technical and medical professional, as well as early-adopter consumers, so its results are not necessarily indicative of broader consumer buying patterns. Its data does, however, offer a glimpse into the thinking of those who are frequently considered to be at the forefront of such trends.