Opera 10.50 Beta for Mac Released, Performs Well in JavaScript Benchmarks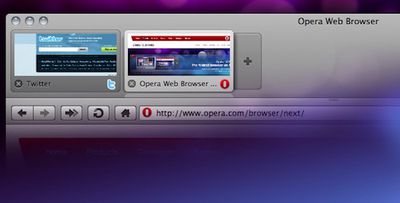 Opera today
announced
the release of
Opera 10.50 Beta
for Mac, bringing several new features to the Web browser.
Highlights
- Cocoa
- Unified tool bar
- Growl notifications
- Multi-touch gestures
- Happy Easter! Well almost, but multi-touch users should look out for the egg
In addition, Opera 10.50 Beta offers stabilization improvements over earlier versions, support for HTML5 video tags, and support for widgets as standalone apps.
Computerworld had a chance to run some quick JavaScript benchmarks on the new version and found that Opera 10.50 is 10% faster than the latest version of Safari and also tops WebKit and Chrome browsers included in the study. According to Opera:
A completely new JavaScript engine makes Opera 10.50 run Web applications more smoothly. Up to 8x faster than its predecessor, the new Carakan engine speeds up even the most demanding Web sites.
Opera has been pressing forward on bringing its latest offerings to Apple's products, having just last week demoed running an iPhone version of Opera Mini. The application has not yet been submitted to Apple for approval, although Opera is hopeful that the speedy browser will be accepted for inclusion in the App Store.