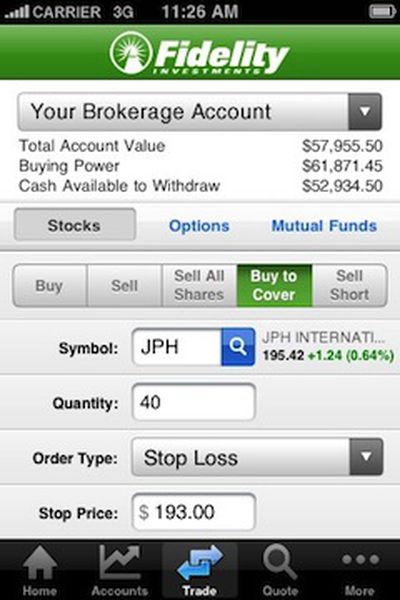 Fidelity Investments today
announced
the release of a
new, free iPhone application
allowing brokerage customers to monitor their portfolios and execute trades directly from their iPhone or iPod touch.
"At Fidelity, we recognize the growing popularity of the iPhone and iPod touch, and in fact, nearly half of the customers using our current mobile trading application, Fidelity Mobile, log in from an iPhone," said James C. Burton, president of Fidelity's retail brokerage business. "Our new app takes full advantage of the revolutionary technologies of iPhone and iPod Touch to allow us to deliver powerful trading and account management services in a very user friendly format."
With the new app, customers can also access their Fidelity account information and watch lists; stay updated on domestic and world markets via up-to-the-minute news; receive real-time quotes; and compare the performance of multiple stocks all on one screen with interactive charting capabilities.
Fidelity customers using the new iPhone application to manage their accounts can take advantage of the company's new $7.95/trade pricing and also engage in commission-free trading of 25 iShares exchange-traded funds. Users who are not Fidelity customers can access most of the application's functions, including charting, market research, stock watch lists, and news feeds.