Over 5000 'Overtly Sexual' Apps Pulled from App Store (And Counting)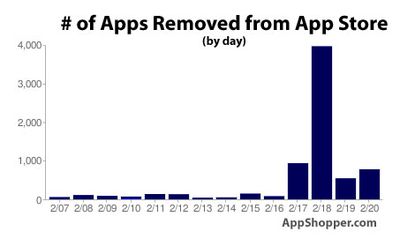 Late last week, the
news broke
that Apple was removing "overtly sexual" applications from the App Store. The list of applications that have been removed have not only included
novelty apps
and adult themed slideshow apps, but also a number of games including
Daisy Mae's Alien Buffet
. This graph provided by
AppShopper.com
shows that on a typical day, about 100 apps are removed from the U.S. App Store. This includes forcible removals by Apple as well as instances where a developer has chosen to remove an application from sale.
On Wednesday, February 17th, however, this number shot up to 932 removals and peaked at nearly 4000 removals on Thursday, February 18th. The high number of removals has continued over the weekend as Apple continues to clear out these newly blocked apps. In speaking with Apple, ChilliFresh found out that over 5000 apps were affected, which corresponds to AppShopper's stats as of Saturday, though the higher than normal rate of removals seem to be continuing. So far, the removals represent about 3% of the total number of apps in the App Store.
While the merit of Apple's new policy remains an ongoing debate, the new policy may slightly improve some of the clutter found in the App Store as the most prolific "sexy app" developer had published nearly 500 variants of their bikini photobooks.