Apple Considering Adding Contacts to iPhone Home Screen?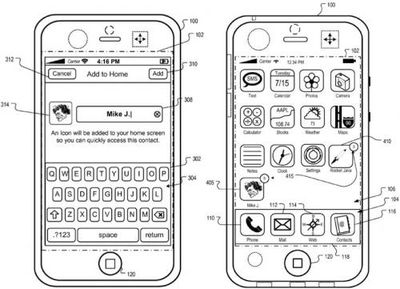 Being Manan notes
(
via Redmond Pie
) a
newly-published patent application
from Apple describing the ability to add users' contacts directly to the iPhone's home screen, offering one-touch access to various functions related to that contact.
Users can create icons for a mobile device, where the icons can represent often accessed user contacts. User created icons can allow convenient access to all information and applications related to a contact. Thus, consecutive access to applications related to a contact can be greatly diminished.
Taking things one step further, the patent application also describes a system in which icons for contacts could automatically appear only temporarily based on the user's proximity to the contact. Such a system is similar in some respects to Google Latitude and Loopt, but would offer direct home screen integration with proximity-based services. Apple has also expressed interest in such "location sharing" technologies in other patent applications.
Today's application also specifically addresses the potential for proximity-based advertising using the same functionality, allowing businesses to offer information to nearby users in the form of contacts that can appear on the home screen of the users' devices.
In some implementations, a contact 610 can temporarily appear on a mobile device 100 when the mobile device 100 is within a determined proximity of a contact host. The contact host can be a server or device operated by an individual, entity or service capable of providing the icon and related application information. In the present example, the contact host is a server operated by a coffee house called "Rocket Java". An alert can be presented on the mobile device 100 to indicate that a temporary contact or application is available to the mobile device 100. In one example, the alert can have two options: "dismiss" and "view contact." After the contact has been viewed, other options can be presented, including options like "add to local contacts" or "save to the home screen."
Apple's proposed system allows for customization of alerts when the user is near a proximity-based contact, either automatically adding the contact to the user's home screen while in close proximity or first requesting permission to do so.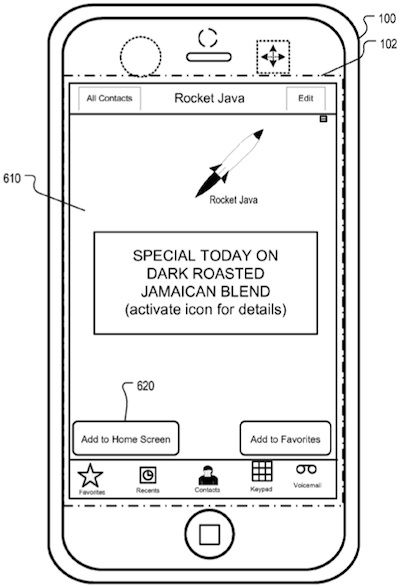 Apple has
explored
the use of location-based content delivery in previous patent applications, suggesting that it may hold more than just a passing interest in the technology.
The new patent application, filed on July 9th, 2008 and published today, is credited to Apple designer Marcel Van Os.