Ever since the release of Apple's multi-touch Magic Mouse just a few months ago, one of the primary complaints from users has been a lack of support for Expos and other functionalities given the limited options available in System Preferences for configuring the mouse.
Addressing these issues, Gizmodo today points to a new menu bar application, MagicPrefs, that greatly expands the customizability of the Magic Mouse.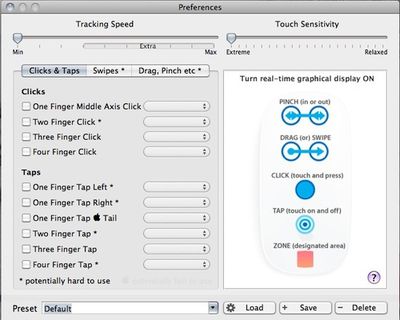 The free MagicPrefs application offers the ability to customize various types of clicks, taps, swipes, and pinches and assign them to a wide variety of system functions. The application also permits tracking speed to be increased beyond the default maximum, addressing another common complaint about the Magic Mouse. Finally, MagicPrefs offers real-time visual feedback of touch patterns to allow users to experiment with and test various gestures.