Steve Jobs Named World's Best-Performing CEO by Harvard Business Review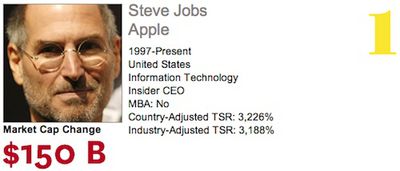 As part of its January 2010 issue,
the Harvard Business Review released
its list of the top-performing CEOs in the world, placing Apple CEO Steve Jobs first among CEOs ranked by performance throughout their tenures.
The #1 CEO on the list, Steve Jobs, delivered a whopping 3,188% industry-adjusted return (34% compounded annually) after he rejoined Apple as CEO in 1997, when the company was in dire shape. From that time until the end of September 2009, Apples market value increased by $150 billion.
The study included 1,999 CEOs who assumed their positions no earlier than 1995 and measured shareholder return as the key metric, with corrections included for general country-specific and/or industry-wide performance gains. A number of prominent CEOs, such as Microsoft's Bill Gates and Oracle's Larry Ellison, were not included in the study because they took office prior to the 1995 cutoff.
Our ranking combines three measures: country-adjusted return, industry-adjusted return, and change in market capitalization during tenure. Of course, shareholder return is not the only measure of performance, and it omits contributions companies make to a wide group of stakeholders. But it is the fundamental scorecard for CEOs of public companies. And it's the same scorecard for everyone.
In analyzing the data to attempt to discern qualities common to the most successful leaders, the report found that while country and industry affiliations had little affect on performance, the most successful CEOs tended to be company insiders, hold MBAs, and have taken over struggling companies.
Jobs was followed in the rankings by Yun Jong-Yong of Samsung, Alexey Miller of Russian natural gas giant Gazprom, John Chambers of Cisco, and Mukesh Ambani of Indian conglomerate Reliance Industries.