Notion Ink Smartpad 10.1 inch Tablet Announced Ahead of CES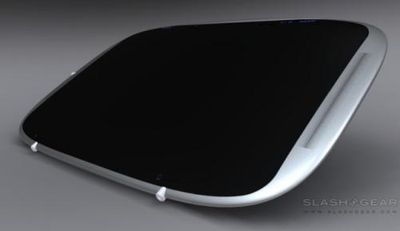 Rendering of Unreleased Notion Ink Tablet
It seems 2010 is going to be the year of the tablet with or without Apple. While Apple is rumored to be pursuing the market later in the year, other consumer electronic companies aren't going to wait and see. A number of non-Apple tablet announcements are expected at CES this year with Notion Ink's announcement arriving a bit prematurely.
Details of Notion Ink's "Smartpad" tablet was released by Slashgear today and carries an impressive spec sheet. The 10.1" sized device also is one of the first to use Pixel Qi's 3qi screen we detailed as a possible candidate for the Apple tablet. The specs for the unreleased device can give you an idea of what might be possible in an upcoming Apple tablet:
- 6.3 x 9.7 x 0.6 inches
- 1.7 lbs
- WiFi b/g, Bluetooth, UMTS/HSDPA (3G)
- Digital Compass, Accelerometer, Proximity, Ambient light, Water sensors
- USB, HDMI, 3-megapixel autofocus camera, Video Recording
- 32GB SSD, SD Slot
- Android OS with Gesture Support.
- 1024x600 Pixel Qi display
- 48 hrs standby battery, 8 hrs HD video playback, 16 hrs internet surfing over WiFi
No price was given, and the system appears to be based on the NVIDIA Tegra T20 chipset. The Pixel Qi display which we detailed in the past is said to offer significant power savings to these portable devices as well as clear viewing in sunlight.
Apple is rumored to be bringing a tablet of roughly the same size to market later in 2010. Apple's version is expected to be based on the iPhone operating system.